It's very easy these days to find images for your blog posts and articles. Images draw the reader in, and also break up the text for easier reading on a screen.
But be careful that you don't violate copyright.  Just because a photo or other image turns up on a Google search doesn't mean that it's free to use.
Copyright law is quite complex and may differ across countries. To be safe, use images that are in the public domain or that specify conditions for which use is permitted.
Images in the Public Domain
The public domain includes works whose copyright has expired and works that were never copyrighted in the first place.
Images produced by the U.S. government are not copyrighted. They are owned by the tax payers. You don't need permission to use them, nor do you need to give credit to the government agency (although it's a nice thing to do).
The easiest way to find an image from the U.S. government website is to add site:gov to your Google search. This will yield search results only from government websites within the U.S., including states' websites.
For example: depression site:gov
Note that there is no space around the colon in site:gov. When you get your search results click on Images at the top of the window. It will look something like the screenshot below. Also note that you can use the drop-down menu to specify the type of image - e.g., if you want only faces.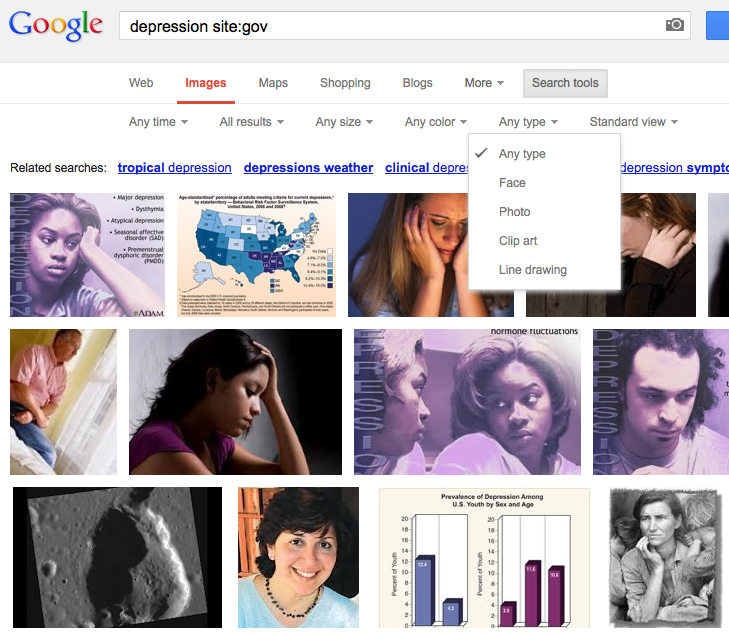 One caveat in searching the U.S. government website: Not every image on the U.S. government website was produced by the government. Some come from outside sources. Usually this is noted.
More public domain works (U.S.):
In general anything produced before 1923 (e.g., pictures of Sigmund Freud) are free of copyright.
Works produced between 1923 and 1963 reverted to the public domain if their copyright was not renewed 28 years after the original copyright.
Anything released into public domain at any time by the author or artist is free of copyright.
To search for public domain images online, use one of the following strategies:
Add "public domain" to your Google search terms
Creative Commons License
Creative Commons allows those who create images and other works to grant certain permissions to users while still retaining the copyright. Many images posted on Flickr.com are licensed under Creative Commons.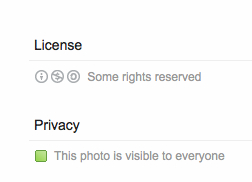 When you click on an image, you'll see licensing info in the sidebar as in this example.
"Some rights reserved" in this case means that you must attribute the image to the photographer (in your post include "Image by so-and-so, via Flickr), and you cannot use the image for commercial purposes.
Other images may show "All rights reserved," which means you'll need to get permission and/or pay a royalty fee. In other words, not all images on Flickr are free to use, even for non-commercial purposes.
If you use Google's Advanced Search window (accessible by clicking on the little gear icon at the upper right corner of your search results) you can filter by the type of license by scrolling to the bottom of the advanced search window to "Usage rights":
You can also search websites that aggregate free-usage-rights images from various sites. The most popular are EveryStockPhoto and the Microsoft Clip Gallery.
Final caveat: with millions of free images online you may end up spending hours to find that perfect photo. Speaking from personal experience, I recommend that you consider the value of your time, and stop when you find something acceptable.