Back in December 2012 on this blog I posted some tips on how to find free images online. It's time for an update...
Why use images? Images not only make your website, social media posts, slide presentations and handouts more attractive; they also help create a mood and get your point across more effectively.
Avoid illegal image use
Above all, make sure that you can legally use an image. Just because a photo or other image turns up on a Google search doesn't mean that it's free to use. Many images are copyrighted, or they require permission or attribution - similar to written works.
Fortunately, Google has filters to display images that have been labeled for reuse.
First, here's a screenshot for unfiltered search results for "lonely." Some of these are copyrighted.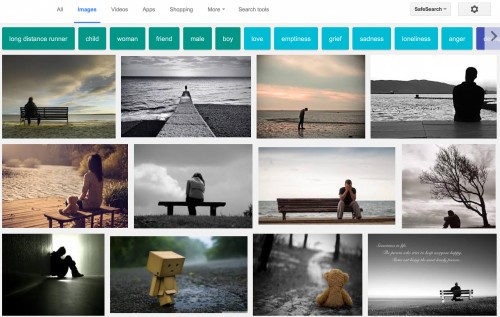 To display images that are legally available for free use, click on Search Tools at the top of the search results, which displays another set of menu items. Select Usage Rights, as shown below. The default is "Not filtered by license." Select one of the other options.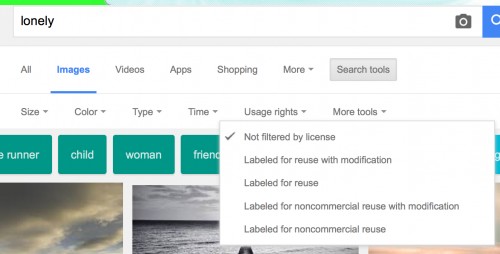 Here are the first few images filtered by "Labeled for noncommercial reuse." You can use any of them in your blog, your Powerpoint presentations or your articles, as long as you are not selling the product. (Also note that you can refine your image search by clicking on the colored boxes at the top of the results.)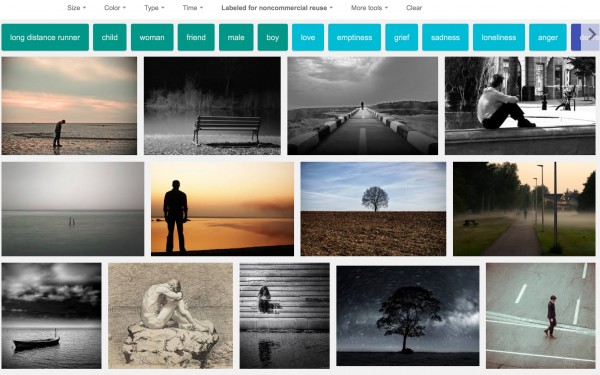 Other Ways to Find Free Images
U.S. Government Websites
Images produced by the U.S. government are not copyrighted. They are owned by the tax payers. You don't need permission to use them, nor do you need to give credit to the government agency (although it's a nice thing to do).
The easiest way to find an image from the U.S. government website is to add site:gov (no space around the colon) to your Google search. This will yield search results only from government websites within the U.S., including states' websites.
One caveat in searching the U.S. government website: Not every image on the U.S. government website was produced by the government. Some come from outside sources. Usually this is noted.
Here are unfiltered search results for depressed site:gov., As you can see, images include more than photos. Depending on your search terms, you might also get results including graphs, illustrations, infographics and clip art.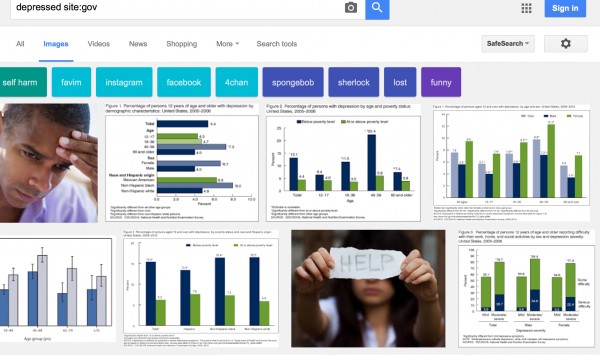 Websites with Public Domain Images
The public domain includes works whose copyright has expired and works that were never copyrighted in the first place. These include those produced by the U.S. government, but may also include other governments as well as private publishers. According to a common interpretation of the U.S. Copyright law (disclaimer: I am not a lawyer, and this is not intended to be legal advice):
In general anything produced before 1923 (e.g., pictures of Sigmund Freud) are free of copyright.
Works produced between 1923 and 1963 reverted to the public domain if their copyright was not renewed 28 years after the original copyright.
Anything released into public domain at any time by the author or artist is free of copyright.
To search for public domain images online, use one of the following strategies:
Websites that aggregate public domain images and those licensed under Creative Commons.
Creative Commons is a non-profit agency that allows artists, musicians, writers and others to license their content, with or without restriction. There are six levels of licensing, ranging from all rights granted (including the right to modify and sell the content) to noncommercial use with no modification.
You'll see Creative Commons logo and licensing designation on images at Flickr.com, Yahoo Images (which owns Flickr), Pixabay, and other image sites. Check the licensing terms of each image, because they may differ, even when created by the same artist.
Other sources of free images
Some  image websites (including Pixabay) offer free images along with paid images, These are clearly marked. Read the terms of use at each site, so that you don't inadvertently break the law. Here are a few of my favorites: Morguefile, FreeImages, Getty Images (embedded in your blog or website only), EveryStockPhoto, FreeDigitalPhotos.
Graphs, infographics and other non-photo images
Graphical depictions make it easy for your audience to process statistical data. Here are some ways to find graphs and charts to supplement your blog posts and presentations:
Add chart or graph to your Google image search. Example: Here's a screenshot of a search for teen drug use chart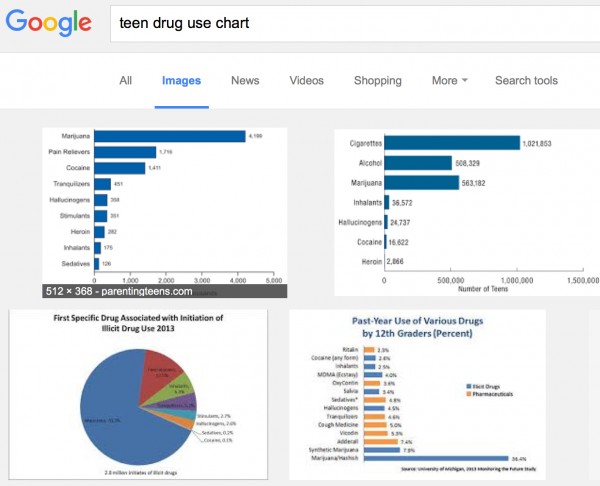 Add infographic to your Google image search. Infographics use images to represent statistics, and can have more emotional appeal than simple graphs. For example, the screenshot below shows the results of a Google search for: teen drug use infographic site:gov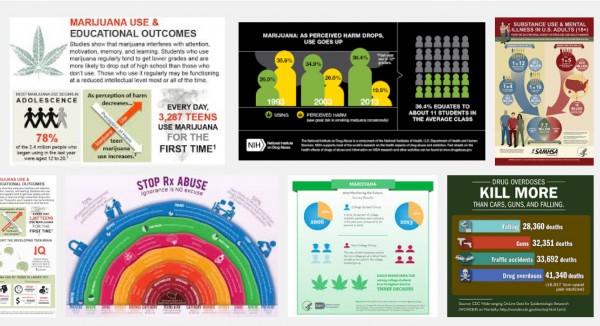 To ensure that you get high-quality infographics, add one of the following to your search terms: site:gov, site:org or site:edu. This filters the results to show infographics only from government, educational or organization websites, respectively. As with all images, check permissions prior to using them.
Add word cloud or tag cloud to your image search. Word clouds are images containing groups words related to a given topic. Importance or relevance of individual words is depicted by their size, relative to the other words. For example, here's a word cloud from SAMHSA on PTSD:
You can create your own word clouds at Wordle,net, tagul.com, worditout.com or tagxedo.com.
.