For just about anything you want to learn how to do, there are free video tutorials online - dog training, cooking demonstrations, apps and software use, and even psychotherapeutic techniques.
For example, here's a video of the late Dr. Milton Erickson demonstrating hypnotic induction:
If you're a technophobe, there are thousands of how-to videos to explain and simplify the process. Here's one on how to use settings in Gmail:
And here's how to calm a crying baby in 15 seconds:
How to find tutorials
1. Search at youtube.com. Enter your keywords in the Youtube search box, and get a list of videos that you can sort by relevance, view count, duration, upload date and other parameters.
2. Search via Google. Not all videos are posted on Youtube. Using a general search engine you'll find videos from other sites. Also, with Google you have more options for refining your search.
Search tips
In addition to the topic you're searching for, enter one or more of the following:
tutorial
demonstration
technique
how to
beginner
advanced
Thus, if you want to learn how to use a spreadsheet, you might type into the search box:
spreadsheet tutorial beginner
To get the most recent hits when searching on Google, click the "Search tools" box at the top of your results. As shown in the screenshot below, you can limit your search to a specific time range.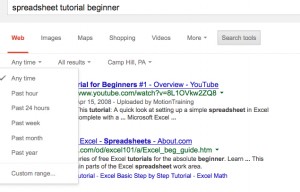 Note that you can also specify "videos" in refining your search results, although tutorial usually yields videos at the top of the search results anyway.
Search edu and gov websites. Results from such sites are typically noncommercial and peer-reviewed. Add site:edu or site:gov (no space around the colon) to your search terms. The screenshot below shows search results from university websites: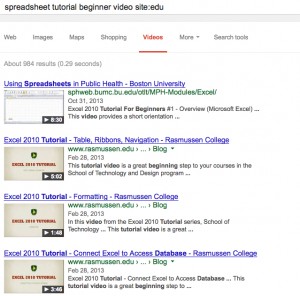 Think about the possibilities of online tutorials, not only for yourself, but also for your clients. There are tutorials and dramatizations for breathing techniques, social anxiety and many other psychological topics.