Watching videos on psychological topics is a great way to educate yourself and your clients. But it's getting harder to find quality video among the billions of files currently online.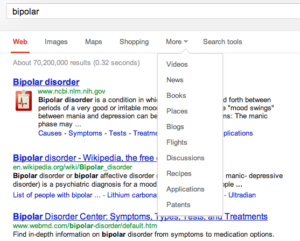 If you know what you're looking for, you can use a general search engine like Google. Type your keyword(s) into the search box. Before pressing Enter, click on "More" in the menu above the search results, and select Videos, as shown in the screenshot at left.
This will retrieve videos only, as shown below. Yahoo and Bing have similar options.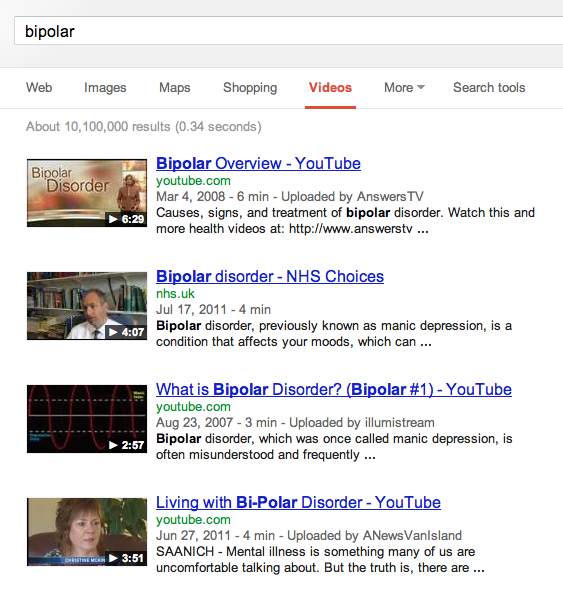 You can also apply advanced search parameters, as in this screenshot, which limits my search to educational institution sites.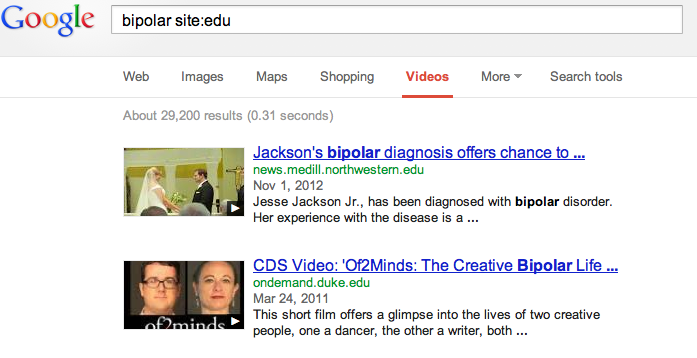 Just want browse psychology topics presented on video?
Check out TED.com  and Science Daily Mind and Brain videos
A few websites have curated collections of videos:
PsychCentral - Top 10 Psychology videos (includes the Stanford Prison Experiment, The Paradox of Choice and An Unquiet Mind) and Channel N Video Blog
Psychotube - Primarily for teachers of psychology, but of interest to others. Dozens of categories.
Free video lectures from top schools
And of course, there is Youtube.
You can search by keyword at Youtube.com or explore some of the psychology-related channels, e.g.:
APA: Lectures, keynote addresses and convention presentations on many interesting topics
British Psychological Society - Conversations and presentations of interest to practitioners and to the public
NIMH - Videos on research related to mental health and mental illness
And one of my fun favorites from psychology professor and former magician, Richard Wiseman. He shows a lot of mind tricks that you can perform in bars, like these:
What's your favorite source for psychology or mental health videos?
Please leave a comment with the website URL.