At the beginning of one's career in private practice, it can make sense to join an established practice of mental health clinicians. In most cases, your financial investment is minimal. Lease payments, furniture, utilities and maintenance are typically taken care of by the practice owner. You may also benefit professionally from the established practice's reputation and referral stream, without much effort on your part.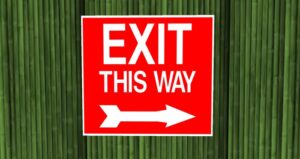 However, at some point, for various reasons, there's a good chance that you will leave a group practice to establish your own business or to join another group. The best time to prepare for this is before joining that first practice. Ideally you will have a contract with the practice, that stipulates who owns the clinical records, how much notice you need to give before leaving, how new referrals are handled during the transition, how payments for your previously rendered services are allocated after you leave, and other common issues related to these circumstances. Then when you decide to leave, there is less likelihood of disagreement, ill will or litigation.
If you don't have such a contract with your current practice owner, there may be some complications that you haven't anticipated. It is strongly advised that before divulging your plans, you consult an attorney who works with small businesses in health care. Even if you do have a contract with the practice owner, it's still a good idea to get some guidance from an attorney.
Can I take my clients with me when I leave the current group practice?
Generally speaking, the clients have the authority to choose the therapist they work with. However, from a legal perspective, you may not own the clients' files and billing data. In that case, your clients would need to sign a release in order for you to obtain their records, and you may have to pay for copying costs. As noted above, check with an attorney.
What if I signed a non-compete agreement in my original contract with the practice?
Suppose that in your original contract with your current group practice, you agreed that when you leave you will locate your new practice outside of a defined perimeter, say 25 miles. There may be other types of non-compete restrictions as well. These may or may not be enforceable. In the US each state has its own laws on this issue. Check with the laws in your jurisdiction, and also get legal consultation. In many case a non-compete clause cannot prohibit you from earning a living.
Non-compete clauses also can violate our ethical principals, which require that we operate for the benefit of our clients and of the public. For example, moving 25 miles away may cause undue hardship to existing clients who cannot easily travel the extra distance to continue their work with you.
Beyond legal issues...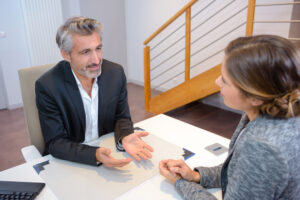 Adhering to laws and regulations may be the easiest part of your transition. In some cases leaving a practice is akin to a relationship breakup, with strain on emotions and coping skills. Above all you should aim to leave the practice on good terms, especially if you intend to remain in the same community. Thus, it is important to communicate your plans in a professional manner.
As a mental health clinician you may be inclined to "process" your feelings with the practice owner. While that might be helpful for the breakup of a personal relationship, it is not advised for the breakup of a business relationship, as it may intensify emotions (on both sides) that interfere with objective discussions and decisions. Instead, take a collaborative, task-focused approach in discussing your exit from the practice. Try to leave personal feelings out of the conversation, but do communicate your willingness to avoid major disruption to the practice owner and to the clients.
How can I look for new office space and contact referral sources without the current practice owner finding out?
It is possible to secure office space quietly if you will be signing a lease for your own solo practice. However, if you plan to join another group within the same community, word may leak out before you move. Similarly, if you approach referral sources who have been sending clients to the current practice, you can assume that word will get back to the practice owner.
As a result, your current practice owner may feel betrayed, which could not only complicate your leaving, but also leave ripple effects on your reputation in the community.
Thus, before you tell other professionals that you're leaving the current practice, share your intent with the practice owner.
What if the practice owner stops referring clients to me after I announce my intent to leave?
That is a possibility, and it could cause you some temporary financial hardship. Nevertheless, in the long run you will probably recover, without damage to your reputation.
If you have a contract with the current practice owner, and it does not prohibit your working elsewhere at the same time, you may be able to negotiate continuing to work there while establishing your practice in your new location. For example, you might agree that until you leave the practice entirely, you will not accept referrals in your new locations from the current practice's main referral sources (and list them).
Practice exit checklist
Moving to a new practice involves more than simply changing your address. In preparation for leaving the group practice, start working on the following:
[fac_icon icon="check-square-o" color="#000000"] Find office space that is convenient to the types of clients you like to work with. Example: Downtown location may be ideal for office workers on their lunch break, but not for school-age children. [fac_icon icon="check-square-o" color="#000000"]  Secure an internet domain name for your practice and prepare your new website. [fac_icon icon="check-square-o" color="#000000"]  Make sure you have adequate insurance. See my recent post,
Three types of insurance for clinicians in private practice
. Contact all your current insurers to inform them of your change of address, and to discuss any new insurance needs that you might have. [fac_icon icon="check-square-o" color="#000000"]  If you accept insurance payments for your services, contact companies that you're currently empaneled with, and ask how to arrange for payments to you in your new office. You may also want to apply for credentialing with other insurance networks at this time. [fac_icon icon="check-square-o" color="#000000"]  Shortly before you move, update your office address at any online directories (such as PsychologyToday or GoodTherapy) where you are listed, as well at Twitter, Facebook, GoogleMyBusiness and other places where you have a profile. [fac_icon icon="check-square-o" color="#000000"]  Once you are established in your new location, you may get the occasional referral that is not a good fit for your expertise. If you think that the person could be helped by a clinician at your former group practice, refer them to that clinician. It's a gesture of goodwill that could also encourage cross-referrals back to you. [fac_icon icon="check-square-o" color="#000000"] If you're joining another practice, have a signed contract before you move in. As you may have learned from your experience in leaving the current practice, it is essential that you have a detailed exit plan from the outset. For more information see Dr. Jeff Zimmerman's post,
Joining a Practice: A Practical Guide
, and his more recent home-study course,
What You Need to Know About Joining a Group Practice
.
Thanks to Jeff Zimmerman, Ph.D., who contributed to this post.