Online social networking is touted as a great form of marketing. It's inexpensive, easy, and has the potential to reach thousands, or even millions of people. And you can do it all from home at any time that's convenient. But how many people have contacted you for an appointment from reading your latest tweet?
For generating referrals to your practice, face-to-face networking is far more effective. It takes more effort, and you'll connect with fewer people. However, with the opportunity for richer communication (via body language, facial expression, shared experiences) others will more likely remember you.
Not just cocktail parties
The essence of networking is creating and nurturing mutually beneficial relationships. Cocktail parties and other social mixers are just one way (and not necessarily the best way) to accomplish this. Any situation in which someone can get to know you is a form of networking.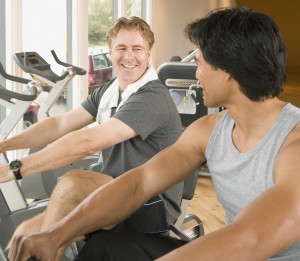 That's why it's important to get out of your office and become more visible in your community. Simply being friendly - such as striking up a conversation with another parent at your child's school, or introducing yourself to people at the gym - can help build your reputation as someone who is easy to talk to. As you continue to encounter the same people over time, they may become interested in learning more about what you do professionally. Eventually, when they or someone they know needs help for a mental health problem, they will likely think of you.
Network via volunteering
Volunteering is a more structured way to network, and is easier for introverts. When the focus is on a project or activity, you don't need to work so hard to keep a conversation going.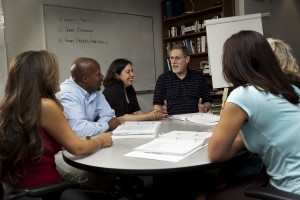 In the process of serving  as a volunteer, you build relationships and connections with other people in a natural, gradual way. It may not be appropriate to see those same people in therapy, but they might refer their family and friends to you; or they might engage your services as a speaker or consultant for their business.
Where to volunteer: In determining the best use of your volunteer time, pick something you enjoy, preferably different from the everyday work you get paid for.
Also consider the types of people you will connect with in your volunteer work. If your target audience is families with young children and you want to become better known among these people, get involved in family- or child-oriented organizations. If you want to meet business leaders, join the same types of volunteer organizations as they do.
Every community has several volunteer opportunities. For example:
Coach your kids' sports team.
Serve on a community advisory board.
Join a service club (Rotary, Kiwanis, etc.) and serve on a committee.
Help in the planning of arts festivals, First Night (New Year's eve) and other community celebrations.
Participate in health fairs and community-wide health screenings.
Volunteer at your local theater, orchestra or museum.
Organize activities at your neighborhood school, senior center or house of worship.
Help with historical restorations or public hiking trail maintenance.
Run for local elections such as school board or other part-time positions
That's just a start. Your community most likely offers additional volunteer opportunities. Check out VolunteerMatch.org or Volunteer.gov.
Online networking is still important...
Given that people have busy lives, it's not always convenient to meet in person. Online networking can be quite effective as an adjunct to continuing contact with those you have met face to face. It will increase the chance that your name will come to mind when they want to refer someone for mental health services. Here are some ways to keep in touch:
Use email to follow up with someone you have recently met in person. Send them an article or link of interest to them (but don't add them to your joke distribution list!).
Join Linkedin groups of locals in your community, and participate in conversations.
Follow local colleagues of various professions on Twitter, and retweet their posts when relevant. They will be notified and flattered!
Check out the blogs of local leaders in the community (especially those whom you have met in person) and leave comments on their posts.
Maintain your own blog and Twitter feed. When local people check you out on Google, they will see that you are a knowledgeable authority in your field.
See also, "Show up for Success" blog post.