Pinterest has a lot of food and fashion images, but it can also be used for marketing your practice, especially if you work with millennials.
As of September 2017, Pinterest was getting over 200 million visitors per month. Their users are 70% women, about half of whom are under 40 years old.
How does Pinterest work?
Pinterest is a social networking site where people share images or videos, with a brief description attached. Each image or video is called a pin, the term derived from the way people have pinned pictures, flyers, signs, etc. on a physical bulletin board for decades. Pins also serve as visual bookmarks, because they can link to websites and to other social media.
People browsing or searching on Pinterest collect content that they find interesting or useful, and save it to their own Pinterest boards. They can also share it with others via email, Facebook and other social media, and follow pinners whose content they like.
In addition, Pinterest users are presented with feeds of images based on interests that they selected when they set up their accounts. Thus, if they selected Health as one of their interests, they see new and popular pins related to health, and can pin any or all to their own boards for themselves and their followers.
TPI recently started a Pinterest account, with interests related to mental health practice. Here's a recent group of pins that appeared on the TPI Pinterest feed. I selected a few to keep.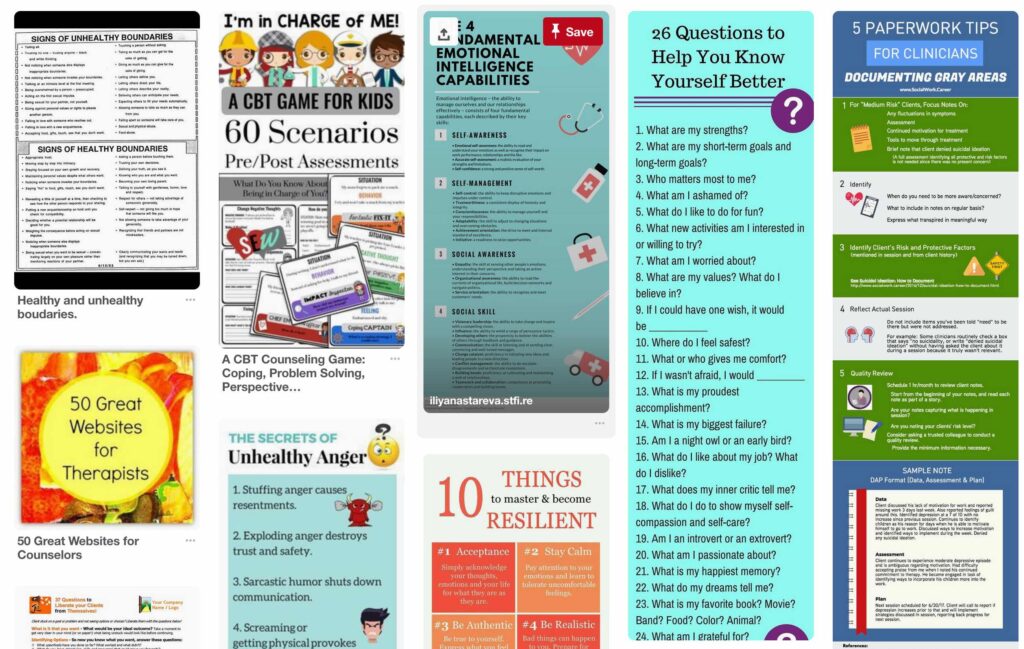 Pinterest vs Twitter
Like twitter, you get a feed of content. However, on Pinterest, the feed extends beyond those you follow. It's based on your expressed interests and on what you have recently viewed.
Pinterest has a couple of advantages over Twitter. Unlike Twitter, Pinterest content doesn't quickly drop out of site. It's more stable. Images that you pin today will still be easily accessible months or years from now.  In addition, you need not have a lot of followers in order for your pins to show up on other people's feeds. Popularity is based more on how many likes and re-pins a given pin gets, rather than on how many followers the pinner has.
Getting started on Pinterest
The best way to get a sense of how Pinterest works is to set up an a business account at Pinterest.com and start pinning. The following video tutorials show you how. I suggest that you view each tutorial in segments, in a separate browser window, stopping as you apply the instructions to your own Pinterest account.
Using Pinterest to market your practice
1. Fill out your profile. When a Pinterest user really likes one of your pins, she may want to know more about you. Make sure your Pinterest profile is complete, including your website and photo.
2. Use keywords. When you go to pin an image to your Pinterest account, you will be asked to specify a board, which has similar functions to a folder. When naming the board, use keywords that you think people might be entering into the search box. For example, if you work with blended families, you might name one of your Pinterest boards "Stepparents and blended families." That way, someone who types either stepparent or blended family into the search box, is more likely to find your pins on the topic. Similarly, you should use keywords in the descriptors for individual pins.
3. Link to your website. When you post content on Pinterest, link it to your website. For example, suppose you post an excerpt or image from your blog onto Pinterest. When you save it on Pinterest, make sure you add a link back to the blog. Alternatively, you can embed images from your Pinterest board onto your blog or website.
4. Curate content. Find content of interest to your target audience and pin it to relevant boards in your account. That helps build your platform as a knowledgeable expert. With the Pinterest browser add-on, you can highlight any text online, and it can be saved as an image. For example, I highlighted the previous sentence to create this visual pin: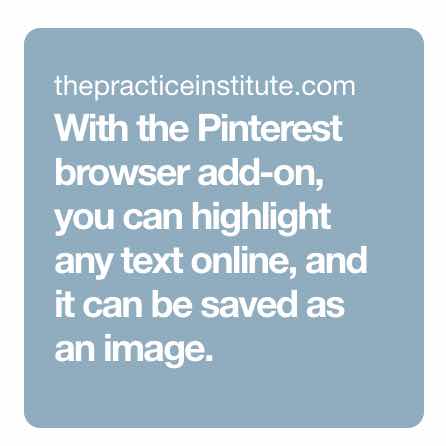 5. Make your pins eye-catching. Many of your pins will be simple quotes or bullet-point lists. Instead of a plain, boring background like above, you can create your own backgrounds with your own image, or use a site such as Canva.com, which provides free and paid templates for you to use. Here's the same text as above, using a free Canva template. It's much more striking, don't you think?